Getting Started
We offer a range of integration options. From our simple drop-in web form to our JavaScript library to our REST API for advanced implementations, choose the method that is right for your brand.
Overview
SheerID helps you provide custom offers to eligible users by verifying their eligibility as a member of a target group. Target students, military, seniors (or young adults), first responders and teachers for your offer programs with our best-in-class verification tools.
A verification should be seamless to your users. Whether the verification outcome is successful or unsuccessful, it will proceed from a series of steps that make up the flow for the type of verification program you are offering. How you choose to implement will depend on the complexity of your website and your customer data requirements.
Choosing the right integration option for your program depends on the level of customization you require in the following 3 areas:
The web form collecting user data
Your data collection requirements
Integration with your frontend and/or backend systems
SheerID provides the tools to render your verification form and collect the data for you. We also provide a JavaScript library and a REST API to give you complete control over the form and data collection.
We'll touch briefly below on the requirements for different integration levels, with links to more detailed documentation for each method.
Easy Install
Create your account and your first verification program, customize the user experience, and deploy to your site.
Sign up for Free
To create your first verification program and deploy a verification form on your site, complete the following steps:
Click here to create an account.
Register a free account using your work email address. You will be taken to your SheerID dashboard.
Now that you have created your account, you can see the various available verification program segments. A free trial is available for testing Military, Student, Teacher, First Responder, and Age verification programs. For this quickstart, we will choose a student verification. Click the Student card to begin.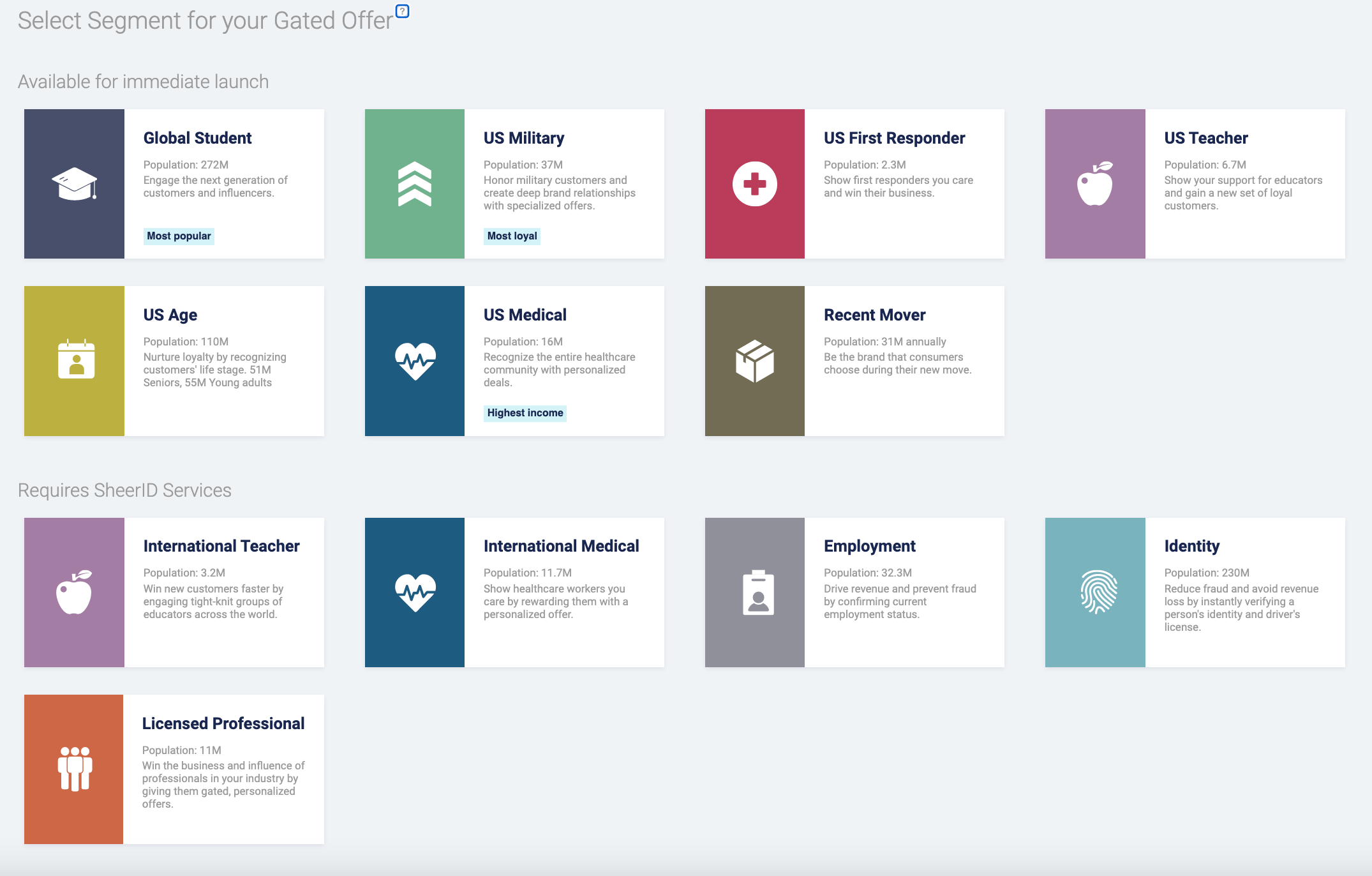 .
Customize Experience
After clicking on the Student card you will advance to the Text section in the progress header. In this section, and in the subsequent Theme and Codes sections, you can customize the look and feel of the different verification steps to meet your brand guidelines.
Customize Text
In the Text step, you will customize the messaging that your users will experience in the following three steps in a verification flow:
Collect Info (Collect)
Success confirmation (Approved)
Doc Upload (Upload)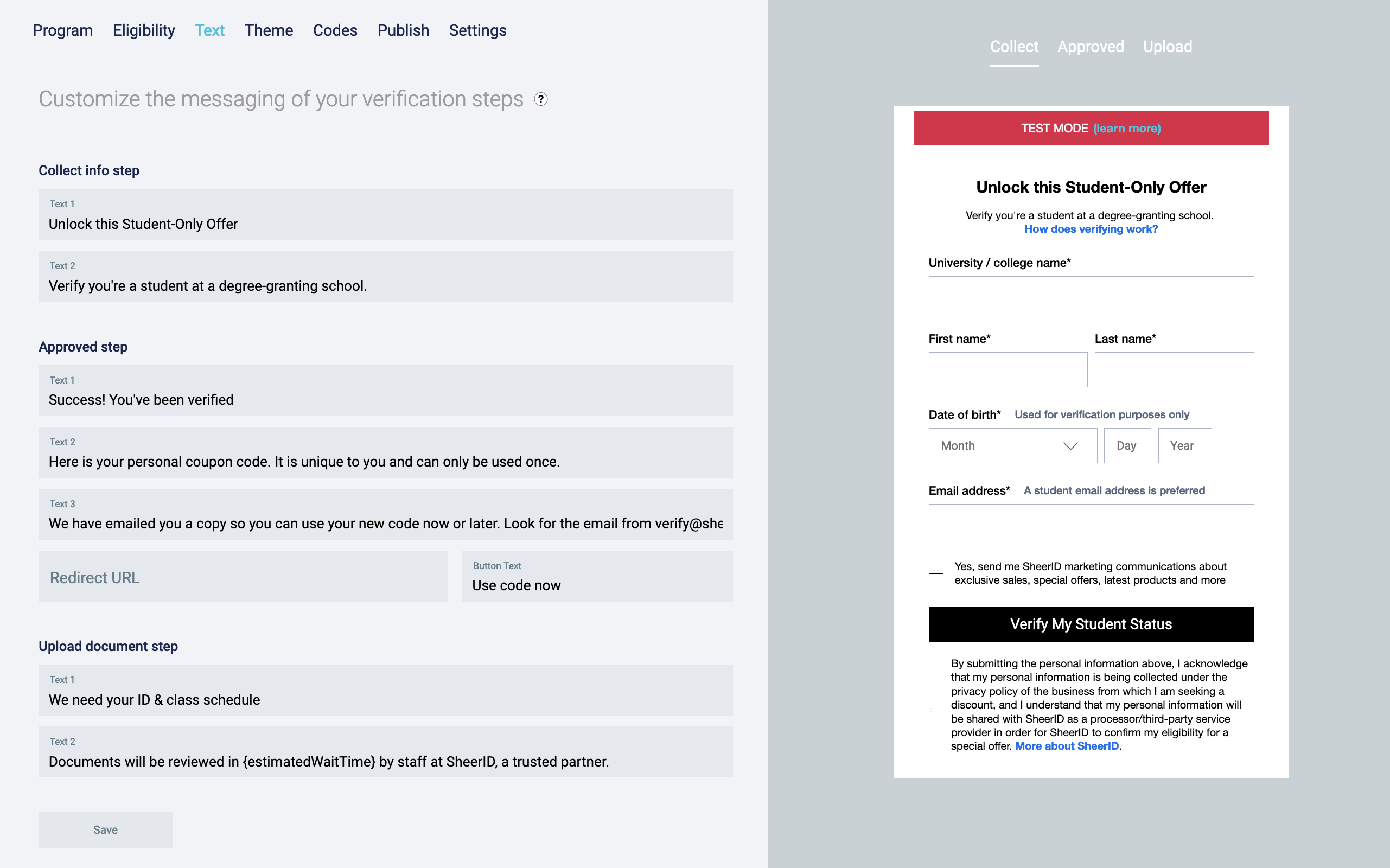 Fill in the text fields in the Collect info step, Approved step, and Upload document step with your desired messaging. Note that as you complete the fields, the form preview on the right side of the screen will update to reflect your changes.
After you are satisfied with the content, click Next.
Note: When you are creating your program initially, Back and Next buttons are available to guide you through the customization steps. When editing an existing program, you will instead be presented with a Save button to confirm changes.
Customize Theme
In the Theme step, you can upload a logo for your program, select from 7 different web-friendly fonts and customize your lightbox and font colors to match your branding using a color-picker or hex codes.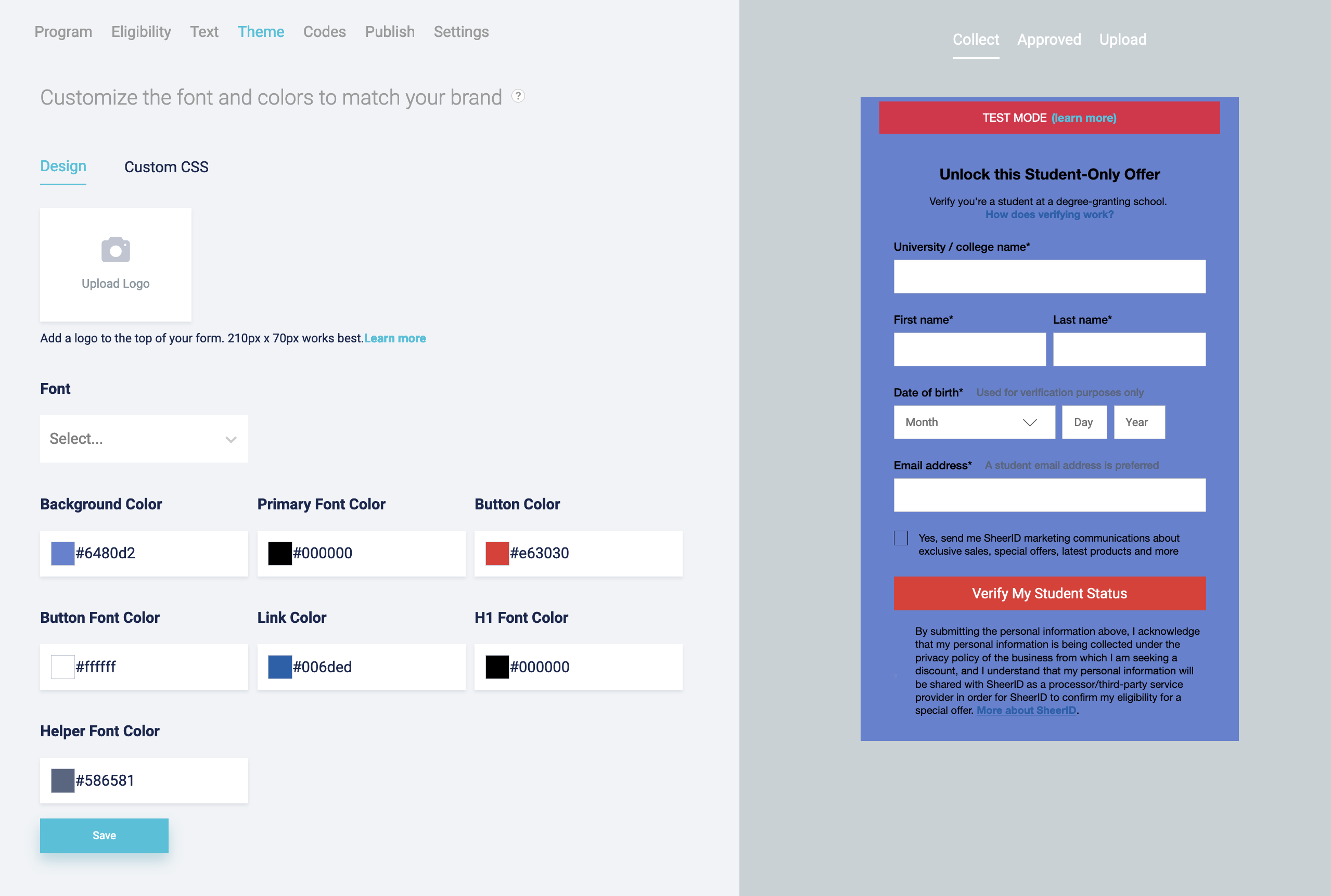 To upload your logo, click the Upload Logo box, and select a .png, .jpg, or .gif logo file that is 1MB or less. You can delete the logo and upload a new one at any time by navigating back to the Theme section of your Program page.
Preview the Collect, Approved, and Upload experiences by clicking their respective links above the lightbox preview.
For a higher level of customization, click the Custom CSS tab and make changes to the lightbox through CSS. A tooltip is available to give common selectors that can be customized.
Warning: Changes made in the Custom CSS tab will cascade, layering on top of and potentially changing any work done through the Design tab. Be sure to thoroughly test the final rendered styles.
Click Next when finished to move on to the Codes step.
Select Promo Codes
In the Codes step, choose either Static Code (default) or Single-Use Codes.
Once you have defined your offer code, click Save to finish creating your program and save the program name, offer name, and description. You are now ready to install your program.
Save Program
You're almost there. In the Save step, choose a program name, offer name, and an optional description for your new program. These values are for internal use only. Click Save to save your new program.
Success: Congratulations! You have created your first test verification program.
Click the Programs icon in the left navigation bar to see a list of your programs. In the next section we will install the verification form on your site.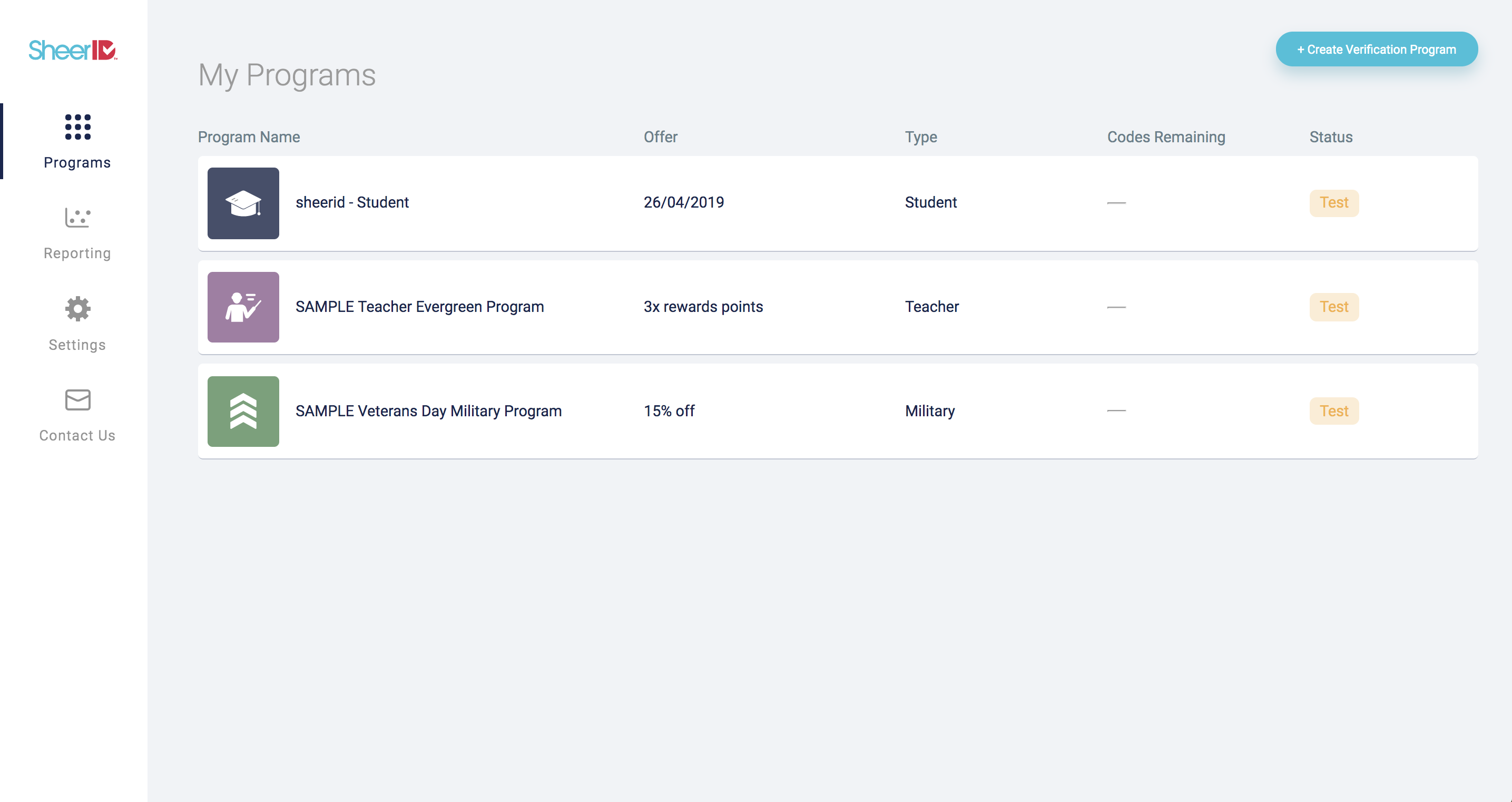 Install Program
Now that you have created a program, it's ready for testing on your site. Choose your program from the Programs menu and copy the provided code snippet.
Note: The code snippet provided in the SheerID dashboard will generate a Confirm Eligibility link on your site that renders the verification form in a lightbox preview.
Add the snippet to your site wherever you would like to peform a verification.
Conversion Tracking Snippets
Below the main installation snippet, two scripts are provided for tracking conversions of verified users who make purchases on your site. Conversions are reported in your ROI Impact Dashboard
These scripts employ cookies to track a user's verificationId and then tie it to a later purchase. Several other methods are available for tracking conversions as well. See our Conversion Tracking tutorial to learn more.
Note: Make sure to deploy the first conversion script on the same pages where your verification begins, and the second script on the post-conversion page. Details are provided in the tutorial linked above.
Test Program
When a new program is created and customized, it begins in test mode. In test mode, you can test your program flows in two different ways:
On your program's Program page, click the See Preview button beneath the code snippet to interact with the rendered form.
Copy the code snippet into your site and interact with the form in your test environment.
Both testing methods will follow the same rules outlined below for the Verify User and Doc Upload steps.
Verify a User
Type in any first name to simulate an instant match approval. Enter all the other required fields in the form and click the submission button. You will be presented with a success message and the offer code that you configured for your program. The success email notifier will be triggered.

Type in "REJECTED" as the first name to simulate no instant match, and present the "Documentation Needed" experience. You will then be asked to upload a file proving your claimed status.
Document Upload
In the Doc Upload step, you can simulate an auto-approve, an auto-rejection, or a review status, indicating to the user that the uploaded documentation is under review.
Use the test documents listed below to simulate the different outcomes.
Note: A Success outcome will give you a dummy reward that won't deduct from your reward pool.
Verification Limit Exceeded
A Verification Limit on your program establishes a policy for the number of verifications allowed within a certain period of time for a given user. If a user exceeds your verification limit policy, any new verification attempts by the same user will be met with a non-recoverable error with an errorId of verificationLimitExceeded.
In order to test the user experience for a verificationLimitExceeded error without having to manually perform the attempts, use "LIMIT" as the first name in a verification attempt. Complete the other required fields with any value and submit the form, and you should see an error message with a "Verification limit exceeded" warning.
Once you are confident that your program looks good, click the Go Live button on the Program page. This action flips your program from 'test mode' to 'live' and it will now use authoritative sources, document review and rewards. There is no need to change any other code or settings at this stage. Note that once you are using authoritative sources, all verifications will be billable.
Go Live
Once you're finished creating your program, you can make a request to publish it by clicking the Go Live button beneath the code snippet on your program's Program page. When you request to Go Live, your program will go into a pending state and you won't be able to edit it. A member of our Sales team will reach out to assure you have a Master Services Agreement in place, which governs pricing for your account. In addition, our Client Delivery team will review your program, make any necessary edits to finalize it, and then publish it so it goes live for your customers.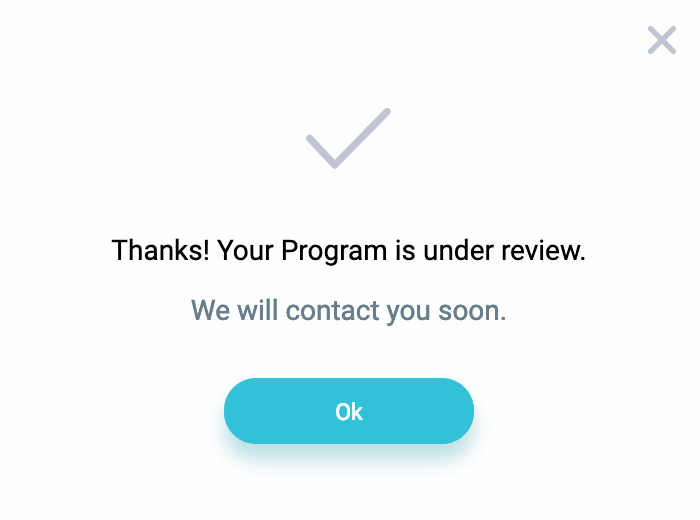 Once your program is live in your MySheerID account, it is ready to go into production on your site. Start marketing your Gated offer!
To make future edits, you have 2 options:
For minor changes: Put your program back into test mode briefly, make the updates, and push the program live again when ready. If you take this approach, we suggest you do it in off hours to minimize impact on your customers. The edits will be published immediately, without requiring a pending step.
If your changes are more involved: Copy the program, make your edits, and push the new program live. When ready to publish, swap the program ID on your site from the old ID to the new ID. This will ensure continuity of your live program, so that your customers aren't blocked at any point from verifying.