SheerID REST API Reference
The SheerID REST API Reference Documentation.
Basics
The SheerID API is organized around REST.
Base URL
The base URL for the SheerID REST API is https://services.sheerid.com/rest/v2/.
The current version is 2.0.0.
Authentication
Certain endpoints require a Bearer Token for authentication. Retrieve your API access token from MySheerID under Settings »» Access Tokens. You will also find your Account ID, which you will need in certain conversion tracking operations.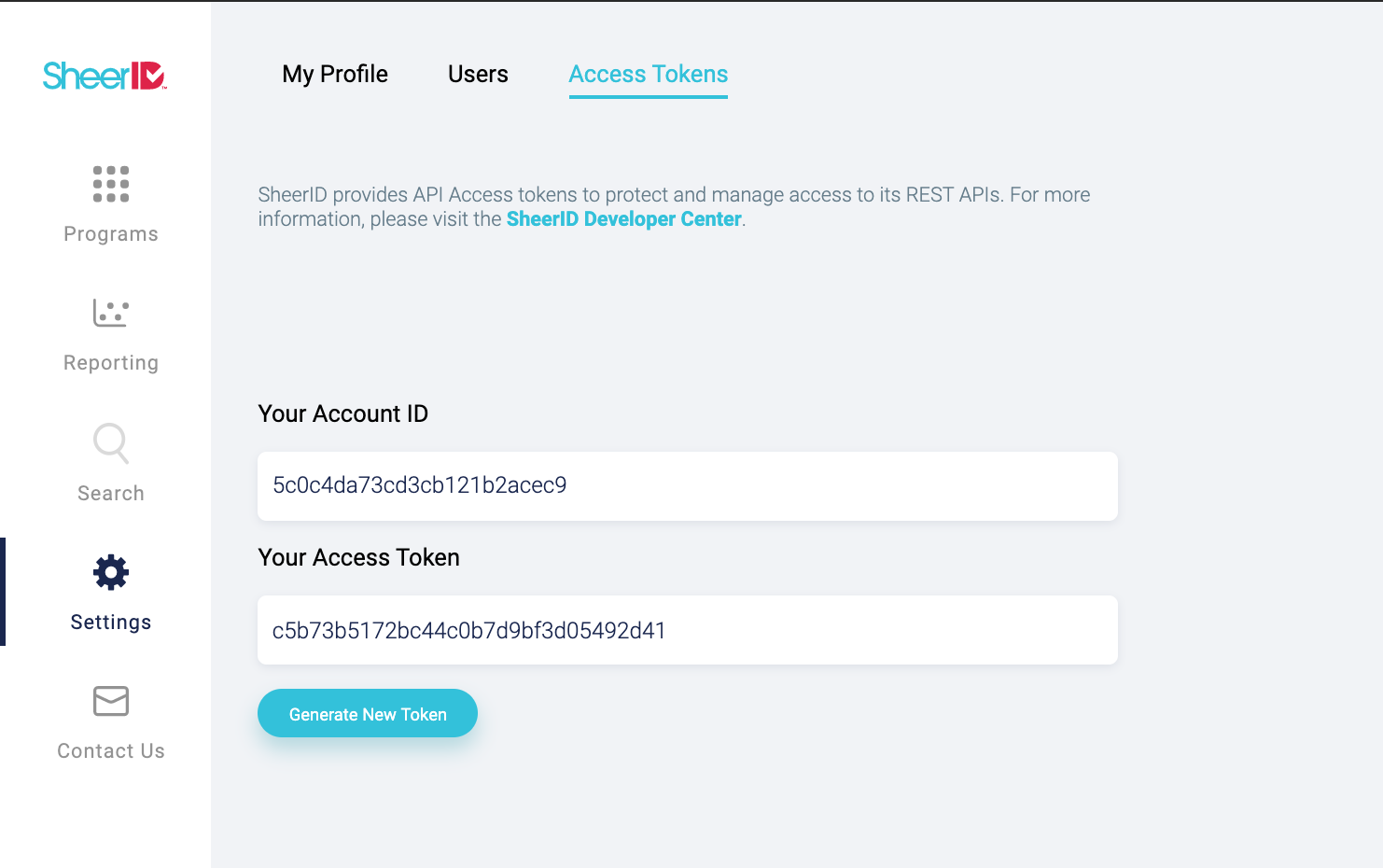 GET

 

/rest/v2/info

 

HTTP

/

1.1




Content-Type

:

 

application/json




Authorization

:

 

Bearer {YOUR_ACCESS_TOKEN}



Endpoints
get /info Retrieve build information
get /organization/student Use GET /program/{programId}/organization instead This endpoint has been deprecated, please use `GET /program/{programId}/organization` instead
get /organization/military Use GET /program/{programId}/organization instead This endpoint has been deprecated, please use `GET /program/{programId}/organization` instead
get /organization/teacher Use GET /program/{programId}/organization instead This endpoint has been deprecated, please use `GET /program/{programId}/organization` instead
post /organization/addSchool Request a school be added to the SheerID organization list Request an school be added to the SheerID organization list
post /verification Start the verification flow for a given program Start the verification flow for a given program
post /verification/marketplace Create a verification that will use the Marketplace verification system Create a verification that will use the Marketplace verification system
get /verification/{verificationId} Get current state of a verification including the current step and submission URL if available Get current state of a verification including the current step and submission URL if available
get /verification/{verificationId}/details Get detailed information about a verification. Requires an API token. Get detailed information about a verification. Requires an API token.
get /verification/{verificationId}/metadata Get the metadata of a verification. Requires an API token. Get the metadata of a verification. Requires an API token.
put /verification/{verificationId}/metadata Replace the metadata of an ongoing verification. Requires an API token. Replace the metadata of an ongoing verification. Requires an API token.
post /verification/{verificationId}/refireWebhooks Refire the most recent webhook notifications for the verification request Refire the most recent webhook notifications for the verification request
post /verification/{verificationId}/step/collectStudentPersonalInfo Submit data for a student verification Submit data for a student verification
post /verification/program/{programId}/step/collectStudentPersonalInfo Submit data for a student verification against a given program Using this endpoint starts a verification and submits personal info in one request, and is the equivalent to POSTing to `/verification` and then `/verification/{verificationId}/step/collectStudentPersonalInfo`
post /verification/{verificationId}/step/collectMilitaryStatus Submit military status to determine which kind of military verification to perform Submit military status to determine which kind of military verification to perform
post /verification/{verificationId}/step/collectActiveMilitaryPersonalInfo Submit data for an active military verification Submit data for an active military verification
post /verification/program/{programId}/step/collectActiveMilitaryPersonalInfo Submit data for an active military verification against a given program Using this endpoint starts a verification and submits personal info in one request, and is the equivalent to POSTing to `/verification` and then `/verification/{verificationId}/step/collectActiveMilitaryPersonalInfo`
post /verification/{verificationId}/step/collectInactiveMilitaryPersonalInfo Submit data for an inactive military verification Submit data for an inactive military verification
post /verification/program/{programId}/step/collectInactiveMilitaryPersonalInfo Submit data for an inactive military verification against a given program Using this endpoint starts a verification and submits personal info in one request, and is the equivalent to POSTing to `/verification` and then `/verification/{verificationId}/step/collectInactiveMilitaryPersonalInfo`
post /verification/{verificationId}/step/collectTeacherPersonalInfo Submit data for a teacher verification Submit data for a teacher verification
post /verification/program/{programId}/step/collectTeacherPersonalInfo Submit data for a teacher verification against a given program Using this endpoint starts a verification and submits personal info in one request, and is the equivalent to POSTing to `/verification` and then `/verification/{verificationId}/step/collectTeacherPersonalInfo`
post /verification/{verificationId}/step/collectSeniorPersonalInfo Submit data for a senior verification Submit data for a senior verification
post /verification/program/{programId}/step/collectSeniorPersonalInfo Submit data for a senior verification against a given program Using this endpoint starts a verification and submits personal info in one request, and is the equivalent to POSTing to `/verification` and then `/verification/{verificationId}/step/collectSeniorPersonalInfo`
post /verification/{verificationId}/step/collectFirstResponderPersonalInfo Submit data for a first responder verification Submit data for a first responder verification
post /verification/program/{programId}/step/collectFirstResponderPersonalInfo Submit data for a first responder verification against a given program Using this endpoint starts a verification and submits personal info in one request, and is the equivalent to POSTing to `/verification` and then `/verification/{verificationId}/step/collectFirstResponderPersonalInfo`
post /verification/{verificationId}/step/collectMedicalProfessionalPersonalInfo Submit data for a medical professional verification Submit data for a medical professional verification
post /verification/program/{programId}/step/collectMedicalProfessionalPersonalInfo Submit data for a medical professional verification against a given program Using this endpoint starts a verification and submits personal info in one request, and is the equivalent to POSTing to `/verification` and then `/verification/{verificationId}/step/collectMedicalProfessionalPersonalInfo`
post /verification/{verificationId}/step/collectEmployeePersonalInfo Submit data for an employee verification Submit data for an employee verification
post /verification/program/{programId}/step/collectEmployeePersonalInfo Submit data for an employee verification against a given program Using this endpoint starts a verification and submits personal info in one request, and is the equivalent to POSTing to `/verification` and then `/verification/{verificationId}/step/collectEmployeePersonalInfo`
post /verification/{verificationId}/step/collectMarketplaceToken Submit data for a marketplace verification Submit data for a marketplace verification
post /verification/{verificationId}/step/docUpload/{docUploadToken} Submit files for document review Submit files for document review
get /verification/{verificationId}/step/sso Start the SSO process for a given verification. This endpoint will redirect the user to the appropriate login page. Start the SSO process for a given verification. This endpoint will redirect the user to the appropriate login page.
delete /verification/{verificationId}/step/sso Cancel an ongoing SSO verification (will move the verification to the docUpload step) Cancel an ongoing SSO verification (will move the verification to the docUpload step)
post /verification/reverify Re-verify a set of verification requests Re-verify a set of verifications as a bulk processing job
get /verification/reverify/{batchId} Check the status of a re-verification task Returns an object with details about the currently running re-verification task identified by the batchId
get /program/{programId}/theme Get the theme data (messages and CSS) for a program Get the theme data (messages and CSS) for a program
get /program/{programId}/organization Search for all organizations that can be used for the given program Search for all organizations that can be used for the given program
post /program/{programId}/verificationLimit Create a verification limit for a given program Create a verification limit for a given program
delete /program/{programId}/verificationLimit Delete verification limit for a given program Delete verification limit for a given program
post /program/{programId}/webhook Create a webhook for any verifications done using the given program Create a webhook for any verifications done using the given program
delete /program/{programId}/webhook Delete the webhook for any verifications done using the given program Delete the webhook for any verifications done using the given program
post /report/verification Generate a verification report Generate a verification report which can be downloaded later
get /report/{reportId}/status Retrieve report generation status by report ID Retrieve report generation status by report ID
get /report/{reportId} Retrieve data for a previously-generated report Retrieve data for a previously-generated report
post /report/reverify/{batchId} Generate a verification report for a re-verification task Generate a verification report for a re-verification task which can be downloaded later
post /conversion/verification/{verificationId} Store conversion information Store conversion information
post /conversion/account/{accountId}/trackingId/{trackingId} Store conversion information Store conversion information based on a tracking ID provided with the NewVerificationRequest when creating a verification