February 17 Release
This release focuses on further enhancements around document review resolution times.
In This Release
Updated messaging when document language differs from form
Last release we focused on setting the right expectations about how long it will take to review a document submitted during the verification process. This release, we added the ability to use the document's detected language to update that messaging.
Prior to receiving a document, review turnaround times are based on the language the form is viewed in. However, once a document is received, we detect the document's language and update the expected turnaround time if that language differs from the form.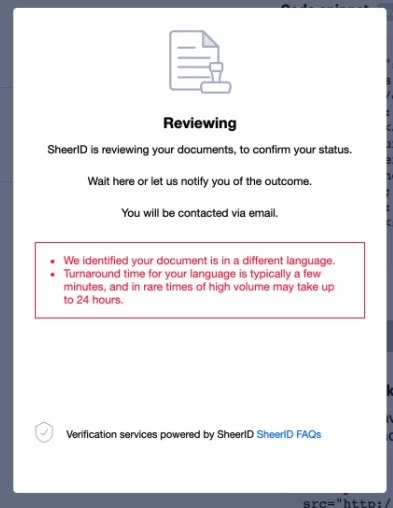 Enhanced support for right-to-left languages
Our JavaScript Library now renders forms with right-to-left alignment when dictated by the language chosen; for example forms in Arabic, Hebrew and others.
Notifier delivery status in Customer Service Search
To further assist you when helping consumers, we added additional information on the delivery status of email and SMS notifiers to the Customer Service Search tool.