User Roles and Permissions
Manage user roles and permissions for your organization.
Navigate to the Settings tab of your Program page to configure the following settings.
Overview
When a new company account is registered at MySheerID, the person who creates the account will have the administrator role. This user can then invite new users to the organization and assign the appropriate roles and permissions to each user depending on job function(s).
If you have a MySheerID account with an administrator role, click the Settings icon on the left-hand navigation menu, then the Users tab to manage user roles and permissions. If you do not have the admin role, you will not see the Users tab in this view. Contact an internal MySheerID admin if you require admin access.
Roles
A user may have one of two roles: Administrator or User. To assign or revoke admin privileges for a user, click the dropdown caret next to the user's role in the Role column. See above image for an example.
Administrator
A user with an Admin role may:
Access the Users tab under Settings
Invite new users to join the account
Upgrade any user to Admin role
Delete a user
Change permissions of a User or Admin, including themself
User
A user with a User role may not perform the administrator functions above, and must be granted permissions by an Admin. These permissions are based on job function, e.g., API access for developers, Customer Service roles for Support personnel, etc. Permissions are defined in the next section.
Permissions
To assign or unassign permissions for a user, click the edit icon next to the user's permissions in the Add-On Permissions column, and select or deselect as appropriate. See above image for an example.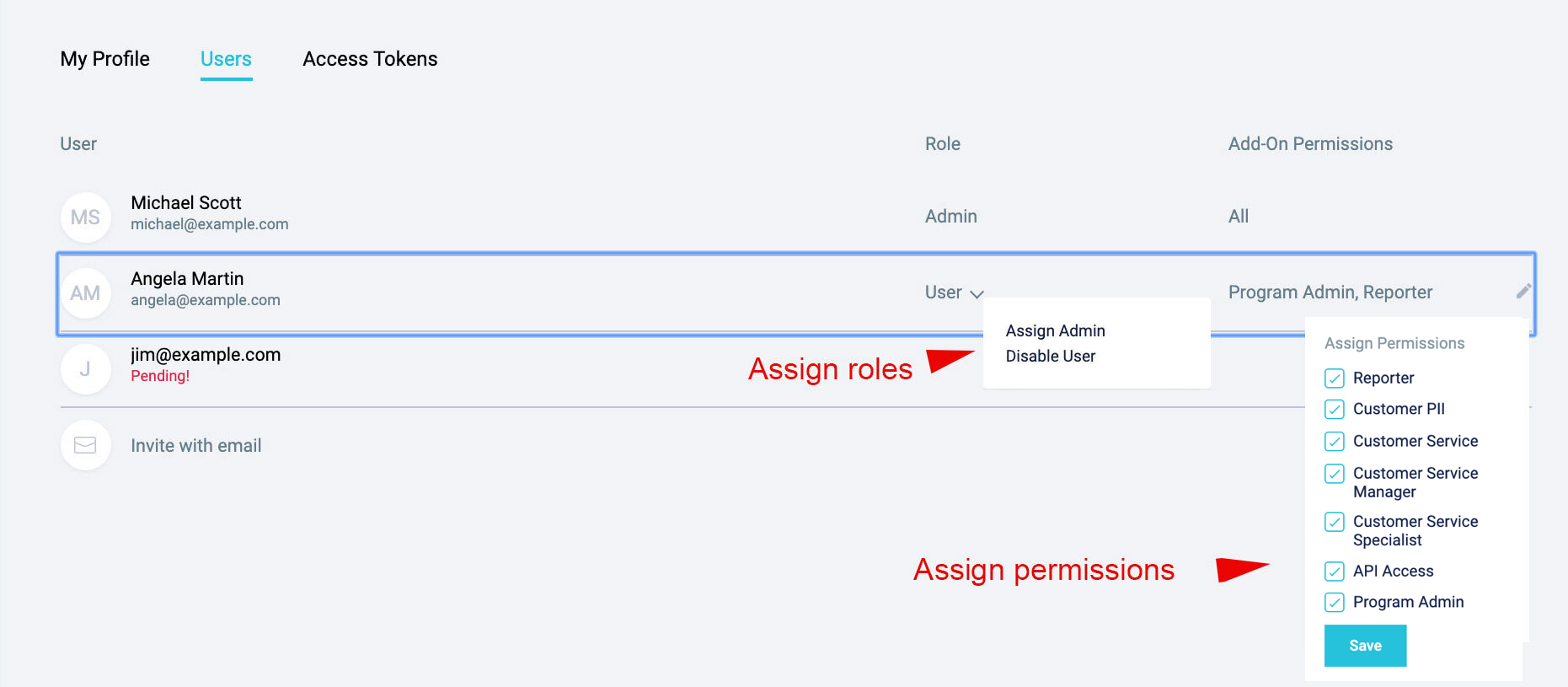 Available permissions with respective access levels are as follows:
Program Admin
Has access to the Programs area
Can edit any program.
Reporter
Has access to the Reporting area
Can see and interact with the Performance Dashboard
Can download the verification report CSV. The report has full verification detail including any custom metadata saved with the verifications.
Has access to the Bundles section of Settings and can view the report
Customer PII
Downloaded verification reports can include consumers' name, email, DOB, and any other collected PII
Customer Service
Has access to Customer Search tool within the Reporting area. See Reporting.
Can search all verification history by customer's full name, email, or verificationID and in some cases, also have option to do a wildcard search on phone number.
Customer Service Specialist
When added to a user with the Customer Service permission, adds the ability to access and download documents
Customer Service Manager
When added to a user with the Customer Service permission, adds the ability to access and download documents as well as upload documents for auto-approval and purge Personally Identifiable Information (PII).
API Access
Has access to Access Tokens tab within Settings area
API token access to use REST API endpoints. Requires Reporter role; if user also has the Customer PII role, then reports will include PII.