Reporting
View detailed information about your verifications and track program performance across key metrics.
Overview
Access detailed reporting on customer verifications in your MySheerID dashboard by clicking the Reporting icon in the left navigation menu. From the reporting dashboard, you can search for individual verification records, view summary data on verifications and download detailed reports in 6 different formats, including CSV and JSON.
Search for Verifications
Use the search field at the top of the page to find details on a verification by name, email address or RequestID.
If one or more results match your query, click on record and the relevant form details and request metadata will be available, in addition to specifics about reviews, rejection reasons (if applicable), and the filenames for any uploaded documentation.
Each record will include details on the verification information collected, request metadata, and information about document reviews and rejection reasons, if applicable.
Detailed information is provided for each verification attempt, including request metadata and information about document review decisions.
Details
Date/Time: Timestamp for the selected verification
First Name: First name of the verification subject
Last Name: Last name of the verification subject
Email: User's email address
Organization: User's organization
Locale: Locale for the verification, determined by your program theme
Reference URL
Request Metadata
Template ID
Token
Verify URL
Reviews
Rejection Reasons
Performance Dashboard
The default report on MySheerID is the Performance Dashboard which summarizes the last 30 days of verifications for all your programs. Use this report to quickly view your total volume over this period broken down by segments, results and verification methods. Graphs of month-over-month totals and daily verification volumes are also included so you can quickly see recent trends. If you are looking for data from a particular date range or a longer or shorter timeframe, use the filter control under the report title to customize the report.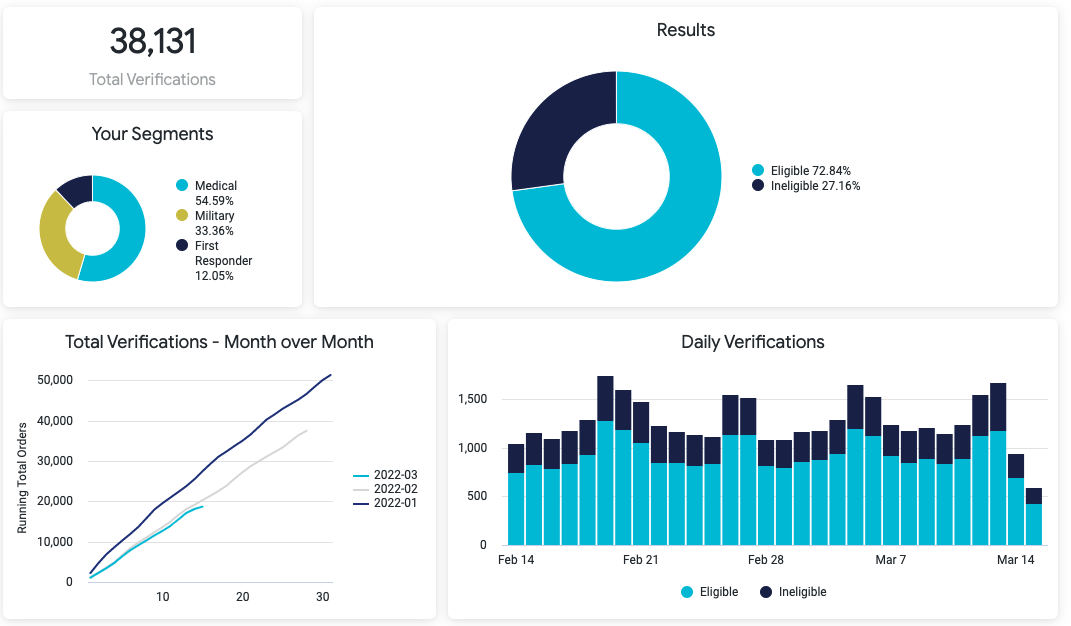 Demo Dashboard
All accounts have access to a demo performance dashboard that is populated with simulated data, giving you a feel for the types of data and reports that are available within the performance dashboard.
To access the demo dashboard, choose Demo Dashboard from the dropdown menu in the upper left corner of the Reporting section.
ROI Impact Dashboard
The ROI Impact Dashboard will appear in your Reporting view with demo data until you begin to send conversion tracking data to SheerID. Once you begin tracking user conversion data, the dashboard will provide metrics on:
Total Program Revenue ($)
Conversion Rate (%)
Average Transaction Size ($)
Likely Fraud Prevented (%)
To get started sending data to the ROI Impact Dashboard, see our Conversion Tracking Tutorial.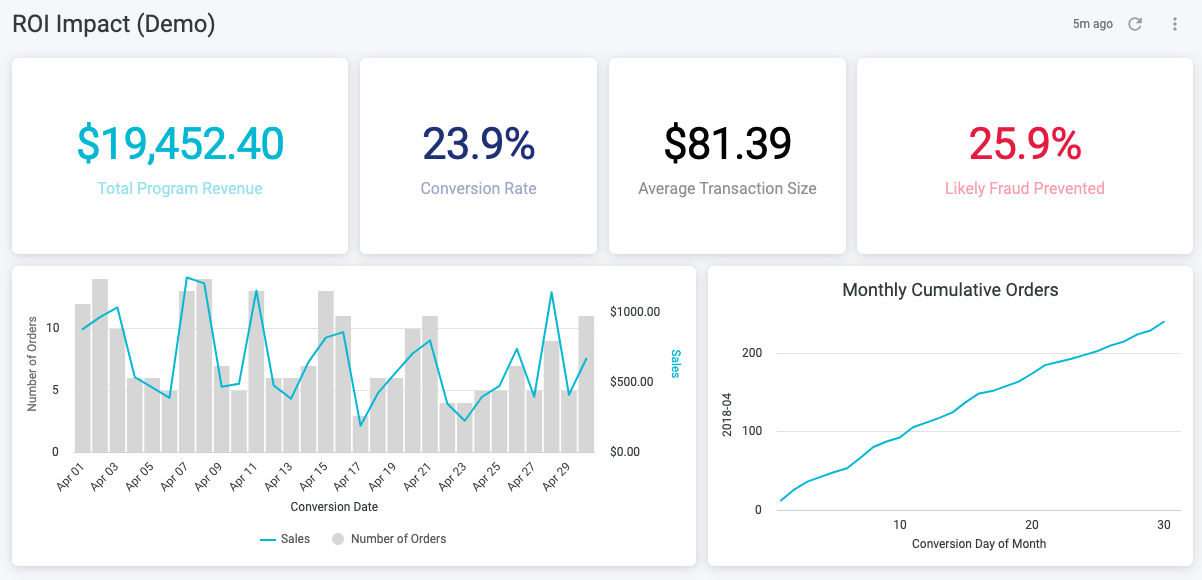 Segment Drill Down
To view a report specific to a particular segment, click on that segment under "Your Programs" and select "Drill Down". The dashboard will refresh with data only related to that segment, including additional information on age range, popular organizations and requests by state. Use the filter control to change the timeframe and switch between segments.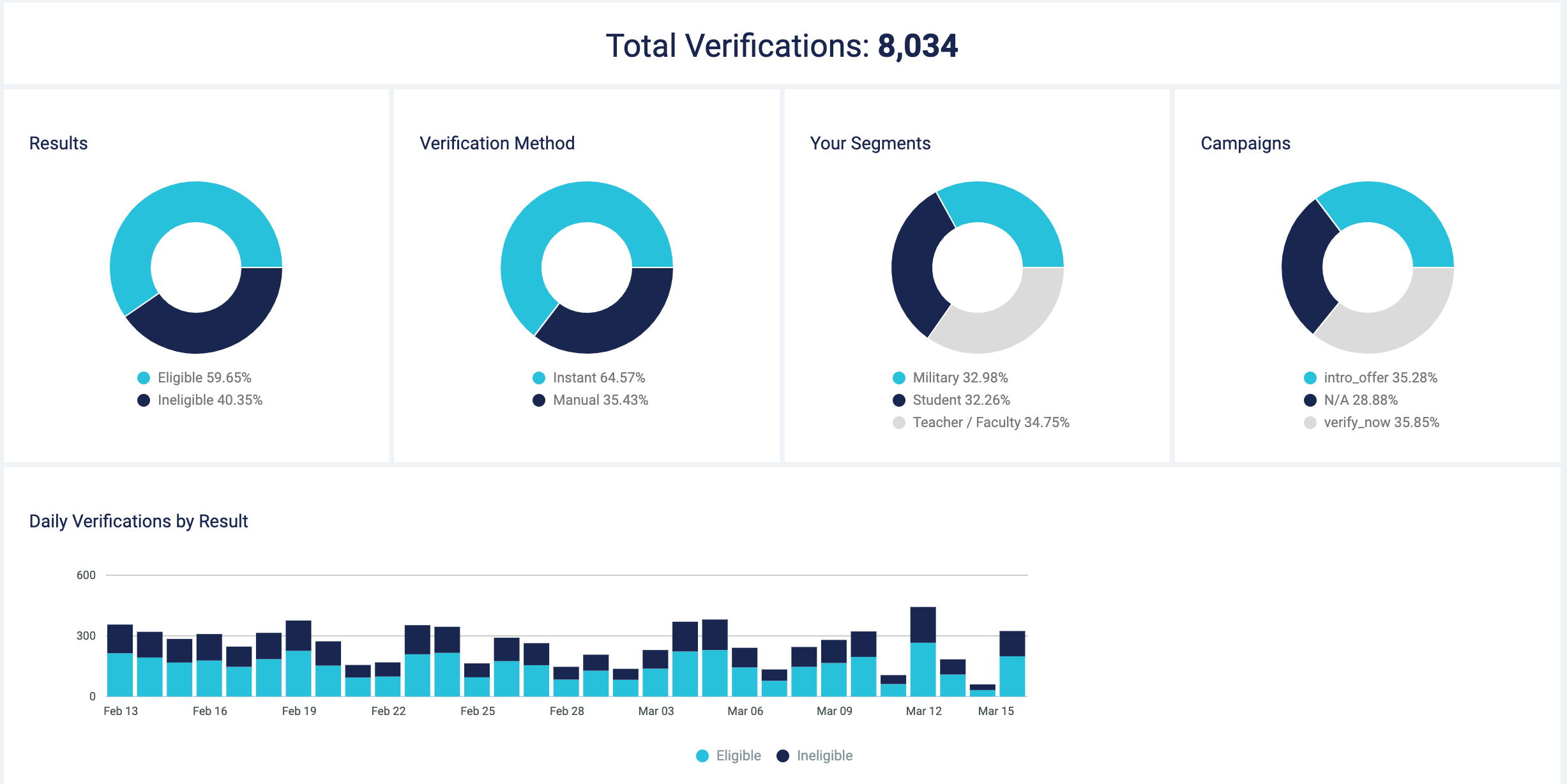 Downloading Data
The Performance Dashboard supports downloads of details on each segment of any graph. To view details about verifications by program, verification method, day, etc., click on the graph segment, which will either open the verification details or ask which verifications you want to drill into. Once viewing the details click "Download Results" to export to one of 6 file types like Excel, CSV and JSON.
You can also download the entire dashboard as a PDF or set of CSVs by selecting the appropriate option from the gear icon above the "Run" button.